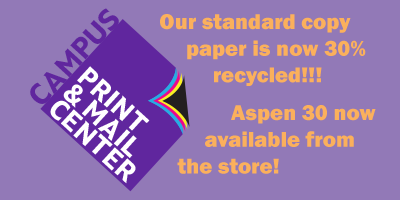 Campus Print & Mail Center
Premium convenient printing services at the best price for faculty, administration, staff and the campus community!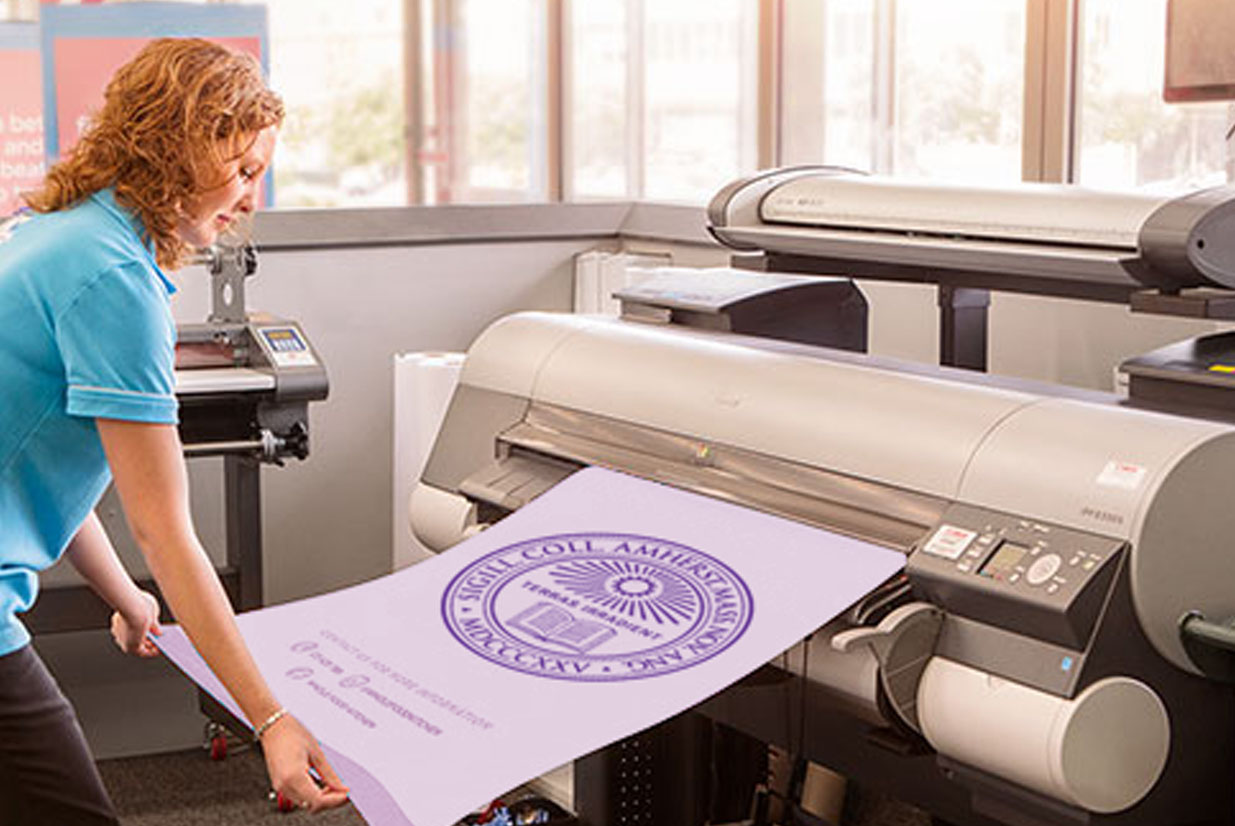 Print Services include:
Fast turnaround color and black/white copy

Large format print and vinyl (banners and stands, fine art, signage, etc.)

Binding (saddle stitch/tape/comb/)

Finishing (folding, tabbing, trimming, collating, hole punching, numbering, scoring/perforating, laminating, corner rounding)

Stickers/Labels
Mail Services include:
Drop off location for USPS and UPS

Worldwide delivery of mail and packages

Bulk mail processing with CASS and NCOA address correction

Tabbing and sealing

Folding and inserting
Store Items Include:
Order Paper and envelopes by ream or carton

Amherst, message, and plain notepads

Nametags, Name badges, Wristbands

Pre-made invitations, notecards and envelopes

NEW

Clothing and Promotional items... hats, shirts, mugs, water bottles, coasters and much more...

NEW... Our standard copy paper is now 30% recycled!

In an effort to improve the carbon footprint on campus, we have switched our standard copy paper to Aspen 30 - a 30% recycled paper.
Follow these instructions if this is your first time placing an online order... If you have an Amherst email address... Click on the LOG IN link in the upper right corner of this page and then click on the "LOGIN USING YOUR AMHERST COLLEGE USERNAME AND PASSWORD" button. Enter your Amherst username and password and hit enter. Wait for the verification email saying you are able to order.
If you DO NOT have an Amherst.edu email address... Click on the REGISTER NOW link in the upper right corner of this page. Enter all required information and hit Register. Wait for the verification email saying you are able to order.
Printing Services
Printing & Copying in both black only and color are available.
For printing and copying, the costs are based on quantity of impressions per original, per submission. An original is one page in the set of what is being printed or duplicated. For instance, if you have a 5-page document to print, you have 5 originals.
B&W
Color
Quantity
Cost*
Quantity
Cost
1-500
$0.04
1-2000+
$0.10
501+
$0.035
*The cost for B&W prints and copies for off-campus patrons is currently $0.01 more per copy.
Multiple colors, sizes and weights of paper are available for purchase in the Print Shop as well. Pricing varies based on availability, weight and finish of the paper being requested.
Finishing Options
There are multiple finishing options available. These services are charged by cost of material, plus a $28.50/hr. labor charge (minimum of $2.85, per 6 minutes):
stapling (multiple position)
Tape Binding
padding (glue binding)
2 & 3-hole punch
booklet production (saddle-stitching and face trimming)
shrinkwrap
bulk paper cutting
bulk paper folding
carbonless forms (up to 3-part)
Spiral Binding is available in multiple sizes of spirals. Pricing varies based on the size of the document to be bound, plus labor.
Wide-format poster printing is also available with maximum dimensions up to 42"x50' wide. Costs are calculated by poster dimensions and material used. Prices vary from $1.00 to $4.00 per square foot. This equates to approximately $8.64 to $24.20 for a 24"x36" poster.
Lamination is available at a cost of $1.50 per foot, on average.
Mounting can be done on foamboard and corrugated plastic (corrplast) for outdoor use and is available at a cost of $2.88 per foot, on average.
---